Sky is the limit when it comes to selecting wedding dress types! There are so many options to choose from – Ball Gown, Sheath, A-Line, Mermaid, Fit 'N Flare…the list goes on!
Hence, it is your call to pick the one that suits your aesthetic preference, vital stats, complexion and above all, your budget.  These genres of wedding dresses come with some unique features that are really a treat for the eyes!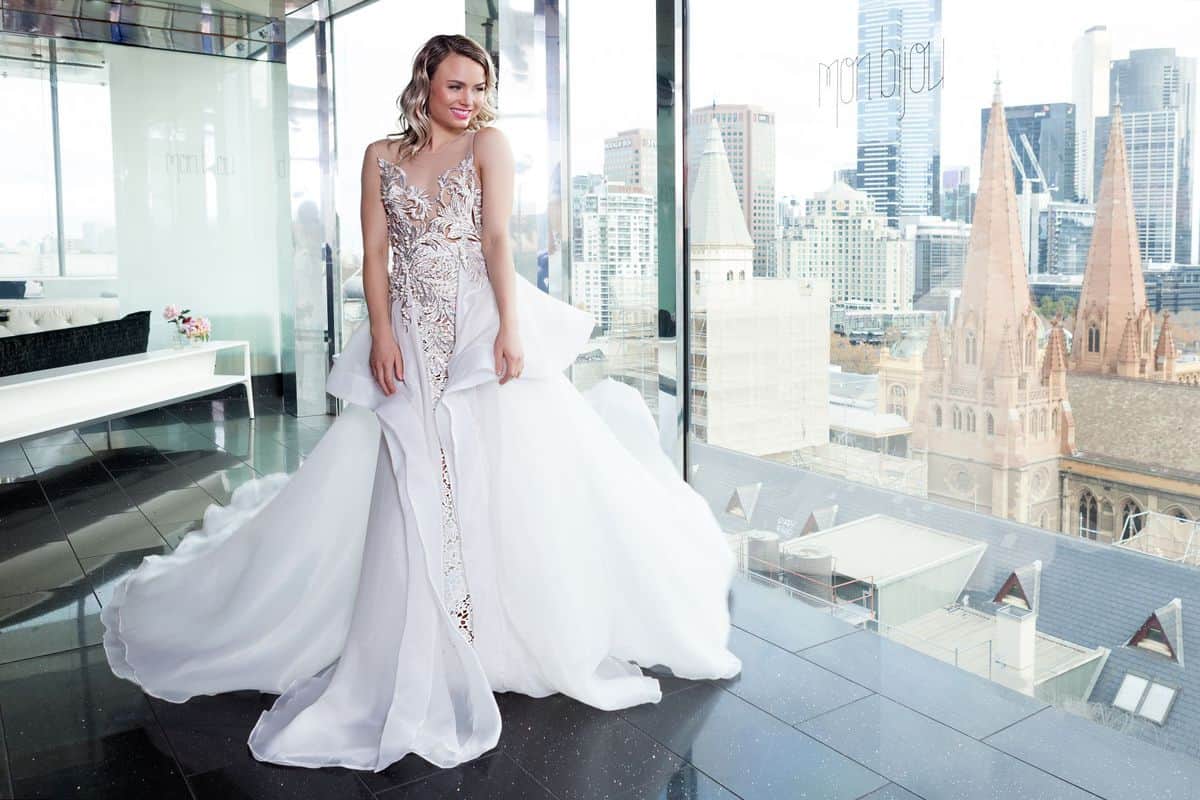 Take for instance, La'Fina. If falls under the category of Mermaid dresses, which is considered as one of the most charismatic and flirtatious silhouettes, in the fraternity of wedding dresses.
Why Mermaid?
These types of wedding gowns are fine fitting ones, which hug the bodice, the waist, and the hips tenderly. To put it in other words, if you are willing to flaunt your Beyoncé or Rihanna -worthy curves on your D-Day, you need to look no further. An exotic white mermaid will be THE one you need to turn to!
When you have the most attractive mermaid silhouette from a  reputed wedding gown manufacturer in Melbourne, it will accentuate your charismatic presence in the ceremony. It will create that illusion of an hourglass shape for those brides with a much slimmer shape.
This attention-grabbing wedding silhouette will flare out at your knees and is quite often paired with ruching, beading or a ruffled skirt (though not always) that incorporate an added 'wow' factor.
Then again, when you opt for a satin variant, it will add an extra bridal cape that will help the attire wear a fashion-forward look and feel.
Here is where LA'Fina comes into play.
Why La'Fina?
Yes! This is a billion-dollar question that may leave you perplexed if you have the plan of opting for it at the back of your mind. Indeed, the La'Fina IS one of the fascinating wedding dresses in Melbourne that you can choose for. Yet, opting for it without knowing much is not a wise thing.
This is one of the louder varieties of mermaid silhouette that will define your beauty more aggressively. The laces that droop down the shoulders are hand placed. They are nicely set up to provide a tender, romantic look and feel. The openness of the back, which the laces highlight, helps it further.
Then you have the V-necked bodice and the customary mermaid fittings along with the dramatic gown. It has a low illusion bareback, which is embroidered by large appliqués.
The two-toned bodice and the lace details tell it all – the customary mermaid fairy tale stitched all over elegantly. So that's it – the tale of aristocracy and romance blended into one in a wedding silhouette.